Artistic Director & Conductor, Danica A. Buckley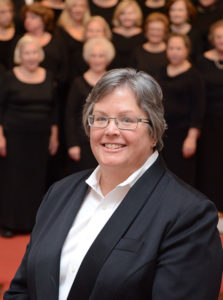 Danica A. Buckley was appointed Music Director of the Cape Cod Chorale in September, 2014. On a personal note, she is delighted to "return" to Sandwich, as her Buckley ancestors arrived in Sandwich in the 1850s, and at least one of them was employed by the Boston & Sandwich Glass Company. In December, she made her debut with the chorus on a concert celebrating "B" composers – Bach, Buxtehude, Britten, and others.
Since 2005, she has been artistic director and conductor of the Choral Art Society of the South Shore. Under her leadership, the chorus performed a sold-out performance of Mendelssohn's St. Paul in 2009, for the 200th birthday of Mendelssohn and the 50th anniversary of the Choral Art Society (in conjunction with the Braintree Choral Society, also under Ms. Buckley's direction). Other performances have included a variety of programming from English part-songs, to Viennese choral chamber music, to songs about the environment. In recent years, Choral Art Society has performed several larger choral-orchestral works, such as Mozart Requiem, Magnificat (Bach), Mass in Time of War (Haydn), and Dona Nobis Pacem (Vaughan Williams), all with the Choral Art Society Orchestra. She has conducted abroad in London and Braintree, England and in Sarteano, Italy.
Since 2006, she has also directed the Simmons College Concert Choir (Hitting a High Note Since 1902!). In September 2013, she was appointed Choir and Orchestra Director for First Parish Brewster, a Unitarian Universalist church on Cape Cod. In April 2013, in response to the Boston marathon bombing, she gathered 500 choral singers, four conducting colleagues, and two pianists to perform the Brahms' Requiem at MIT, less than a week after the marathon, in order to comfort the community and raise money for the One Fund. The concert raised $15,000.
In addition to leading myriad choral rehearsals and performances, she is an adjunct professor of English composition and literature at Wentworth Institute of Technology and music history and English at Simmons College.
She began her conducting career in 1987, and while earning a Master of Arts in English at North Carolina State University in Raleigh, she founded The Tompkins Chorale, comprised of fellow graduate students, her own undergraduate students, and professors. During this time, she also studied voice at Meredith College with Jacquelyn Culpepper and Catherine Charlton. At Brevard Music Center she studied opera with Arnold Voketaitis and Ross Magoulas. She was also a soprano section leader at Pullen Baptist Church, performing under the direction of and studying conducting with Dr. Michael Hawn.
In 1988, she began conducting musicals at Norwich University, from which she had earned a Bachelor of Arts in English in 1985. She remained in Vermont until 1995, conducting the Northeast Kingdom Chorus, the Mad River Chorale (which she founded), the Warren United Church Choir, and several musicals in the community and at Green Mountain Valley School, where she also founded the chorus. She also performed as a soprano in several productions and workshops with the Vermont Opera Theater.
In 1995 she moved to Pennsylvania to teach at Mercersburg Academy where she taught English and was assistant conductor of the choir and guest soprano soloist. From 1996-2002, she taught English and music at Cape Cod Academy, founded the Osterville Community Chorus (in which two current members of Cape Cod Chorale sang!), and served as soprano soloist and assistant conductor at St. Peter's Episcopal Church. From 2005-2010, she was music director at First Parish in Brookline.
Ms. Buckley holds the Master of Music degree in Choral Conducting from Boston Conservatory, where she studied with Dr. William Cutter. In summer seminars at Westminster Choir College in Princeton, NJ, she studied conducting with Dr. Andrew Megill and vocal health science with Dr. Scott McCoy. Ms. Buckley is a member of Chorus America, the American Choral Directors Association, the National Collegiate Choral Association, and the Conductors' Guild.
Accompanist Cathy Bonnett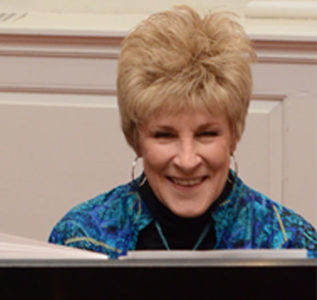 Cathy Bonnett has been the Chorale's talented, sensitive and versatile accompanist since 2000. In a lifelong musical career she was musical director of US Coast Guard Base Chapel for 22 years and has directed several church choirs, currently the Mashpee Congregational UCC church choir. In addition, Cathy has been involved in musical theatre activities for more than 25 years.