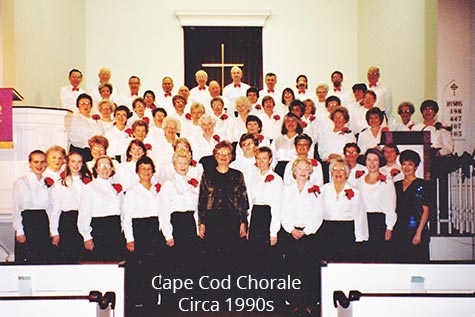 In 1982, the Rev. John Thomas, then pastor of St. John's Episcopal Church in Sandwich, and Bruce Graham, then director of choral music at Sandwich High School, founded the Cape Cod Chorale. Rehearsals were at St. John's Church for about a dozen years, but the Chorale eventually outgrew that venue and moved to the sanctuary of the historic First Church of Christ in Sandwich, where it rehearses every Monday night.
Mr. Graham served as musical director of the Chorale through the spring of 1991. Anne Levy, a singer in the chorus who had had conducting experience, then became musical director and led the Chorale until 1999, when she retired. Chris Roberts, director of music at Chatham Schools, became the musical director at that time. Mr. Roberts was succeeded at the beginning of the 2014 – 2015 season by Danica A. Buckley.
Through the years the Chorale has presented concerts, usually three a year, at many churches and several schools in the Upper and Mid-Cape region. Occasionally the Chorale has also ventured off-Cape, once for a concert in New Hampshire and again to perform for a group of national and international collectors of Christmas memorabilia meeting at Sturbridge, Mass. Appropriately, the Dickens Carolers strolled and sang for the conference attendees before that concert.
The Chorale also has gone abroad for concert tours three times. Mr. Graham took the chorus to Germany and Austria; it sang in the British Isles under the baton of Ms. Levy. In 2004, Mr. Roberts led 39 Chorale members to England and Wales, to sing with the Oxford Welsh Male Voice Choir in Abingdon and Choral Variations in Coedpoeth, Wales.
The Chorale sang with the Sandwich High School chorus in several stage productions of Broadway shows, and from time to time it has participated in concerts with other young singers, most recently from Chatham and Mashpee schools. Also, through the years the Chorale has entertained in local nursing and retirement facilities.
Over the years the Chorale has sung such classical works as Vivaldi's "Gloria", Mozart's "Regina Coeli," Haydn's "Creation," Schubert's Mass in G, Mendelssohn's "Lauda Sion," and the Brahms "Requiem." Works by more contemporary composers have included Rutter's "Twelve Days of Christmas," Decrier's suite of Christmas Spirituals, and selections from "Les Miserables" and "Phantom of the Opera."
The Mostly Dickens Carolers grew spontaneously out of a small group of Chorale members who sang at various sites in Sandwich during the Christmas season. During the 1990s the group grew and started taking paid bookings around Upper and Mid-Cape areas, raising funds for Chorale expenses. Today it has a busy schedule of appearances in varied venues, from nursing homes to shopping centers.